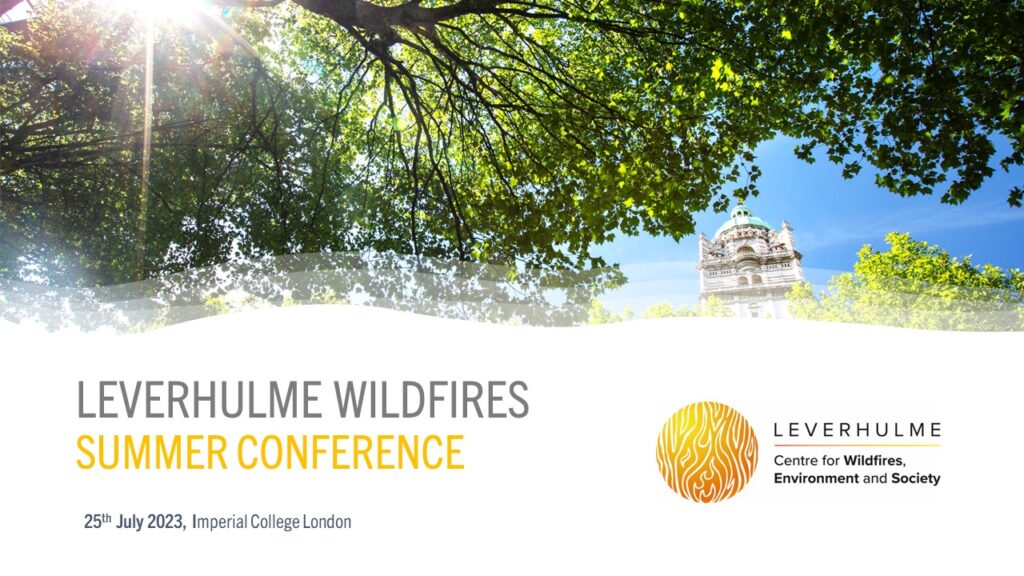 About the conference
On 25th July 2023, we held the Leverhulme Wildfires Summer Conference 2023, an inter-disciplinary wildfires research conference discussing some of the most pressing global questions in the field. Open to all and free to attend, the conference brought together over 120 experts, practitioners and interested public, from the UK and internationally, to share latest advancements, challenges and the ways forward.
Speakers and panel discussion included members of our Centre and external experts, including early career researchers and established academics, covering four core conference themes. We also held a poster session and competition, which included 36 posters from a wide range of scientific disciplines. Our PhD Wildfires Photography competition culminated in a physical and virtual exhibition, "Wildfires Research Through the Lens", sharing photographs taken from across the world. We also featured an artwork display at the conference, which included paintings by Shadrack Musyoki and a participatory mural created in previous Centre workshops.
Pre-conference events included the UK Wildfire Research Working Group meeting which we hosted on 24th July at the Grantham Institute, and the UK premiere screening of 'Elemental – Reimagine Wildfire', a powerful feature documentary on wildfires in the USA.  Many PhD students also continued their week through attending FiredUp2023 – which was also hosted also at Imperial.
This web page serves a repository of information relating to the conference – you can view posters, copies of presentations, and view the photography exhibition and conference photographs all via this page.
---
Conference Resources
Programme: You can view the programme as well as talk abstracts and speaker bios, and below you can also view the pdfs of presentations, where they have been made available.
Poster Hub: Visit our poster hub for list of posters and pdfs (currently being uploaded).
Wildfires Research Through The Lens (PhD Photography Competition): See the entries and find out the winner here
Enquires Contact: please email Adriana Ford at wildfire@imperial.ac.uk
Photographs from the conference are at the bottom of this webpage, or you can view the album here.
---
Conference Themes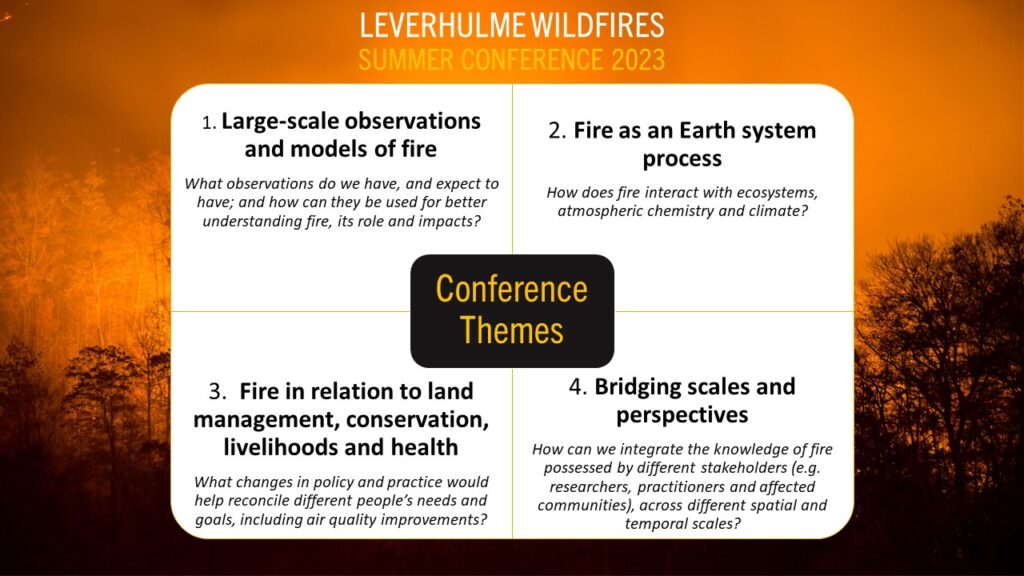 ---
Speakers
We had fantastic line up of speakers including international experts and Early Career Researchers (the next generation of fire scientists!). Leverhulme Wildfires Summer Conference 2023 – Talk Abstracts and Speaker Bios.
Where talks have been made available as pdfs, you can access them below.
---
Wildfires Research Through the Lens (PhD Photography Competition)
In association with the conference, we ran a competition to find photographs and accompanying narratives that best communicates the impressive work of PhD students studying wildfires from across the world. We received 13 excellent eligible entries showing images from across the world, which were displayed in an exhibition at the conference.  Judges' and People's Choice winners were  announced in the closing session of the conference. You can view the entries and find out who won, via the link below.
Wildfires Research through the Lens (PhD Photography Competition)
---
Conference Bursaries
We made two full bursaries available for Early Career Researchers or Masters students from countries with low-income or middle-income economies  to attend the Leverhulme Wildfires conference, and FiredUp2023 conference.
Congratulations to PhD students Aline Naawa (University of Lomé, Togo) and Naftal Kariuki (Kenyatta University, Kenya) for their success!
Blog posts from Aline and Naftal coming soon!
---
ELEMENTAL: REIMAGINE WILDFIRE
We hosted a film and pizza night before the conference which included a special screening, and UK Premiere, of the award winning feature film Elemental: Reimagine Wildfire including a zoom Q&A with one of the filmmakers, Ralph Bloemers.
If you missed the film, it is now available to stream.
Filmed across the West and narrated by Golden Globe and Emmy nominated actor David Oyelowo, ELEMENTAL: REIMAGINE WILDFIRE takes viewers on a journey with the top experts in the nation to better understand fire. The film follows the harrowing escape from Paradise, California as the town ignited from wind-driven embers and burned within a few hours of the fire's start. It then continues to the even more recent fires of the last two years, when Oregon, California and Colorado suffered their worst wildfires in recorded history.  ELEMENTAL: REIMAGINE WILDFIRE includes the voices of climate experts, Indigenous people and fire survivors, and asks us to reimagine our relationship with wildfire as we prepare for an increasingly hotter future.
---
Whilst you are here, why not register your interest in the next UK Wildfires Conference which will be held in Aberdeen in 2024

---
Photo Gallery
This gallery is best viewed in full resolution, by selecting an image and clicking though the album, or you can view the album here. Photography by Jo Mieszkowski.
Leadership Team
The Centre is directed by a six-strong Leadership Team of a Director and Associate Directors, covering a wide range of areas of expertise that are crucial for the materialisation of our Centre: