In association with the Leverhulme Wildfires Summer Conference 2023, we ran a competition to find photographs and accompanying narratives that best communicate the impressive work of PhD students studying wildfires from across the world.
We received 13 eligible entries from PhD students studying in the UK, USA, Greece and Switzerland, with photographs taken in Guyana, Kenya, Greece, Italy, Turkey, India, USA, Burkina Faso, France and the UK – a truly global collection!
The public and conference attendees were invited to vote for the People's Choice award, worth £150 – with 425 votes received and a clear winner in this category! The Judge's Awards were worth £250 (winner) and £200 (runner up), judged by Apostolos Voulgarakis and Jay Mistry, from our Leadership Team. The results are:
Judges' Award: Kayla de Freitas (University of Reading)
Judges' Runner Up: Tilly Hall (Durham University)
People's Choice Award: Amos Chege Muthiuru  (King's College London)
Congratulations to the winners and thank you to all those were entered, creating this fantastic collection of wildfire photographs.
Some comments from the online voters:
Amos Muthiuru's entry
In a world where we are constantly reminded of the damage we are causing to our planet, your photograph is a reminder of what we stand to lose if we don't take action to protect our wildlife and their habitats
Tilly Hall's entry
Considering care and wildfire through this submission with the photograph and accompanying narrative was intriguing. Art and science coming together to shift my perspective
.
Tilly's photo captures the beauty of the majestic landscape as well as the danger it is in. I found her photo incredibly moving.
Kayla de Freitas's entry
We must always be reminded of how the interactions of humans with nature affects life. The matters are intersectional – affecting women and the indigenous tribes in different ways. This photo is such a reminder.
Joyce Ho's entry
The deep social, cultural and historical context is beautifully yet painfully offered in this piece. But leaves an ultimate feeling of hope that despite a great loss nature will rejuvenate and persevere against fire adversity. That humanity can learn from this as we grapple with the growing impacts of local and global contexts wildfire that impacts human/wildlife and natural landscape communities.
Please enjoy the virtual exhibition below.
Copyright belongs to the photographer and photographs should not be used without permission
---
Wildfires Research Through the Lens
1. İsmail Bekar (ETH Zürich) 
Türkiye's Flame-Scorched Year: 2019
In 2019, Turkey experienced its most severe fire season on record. These devastating fires, the end result of changes caused by climate change, forest management policies and human activities, offer profound lessons to be learned. My research aims to understand the complexities within fire regimes, including these types of large fires and extreme years. However, it's not enough to just understand them. We need to put this understanding into practical application. For this, the significant support from decision-making mechanisms is essential. Ultimately, the question that remains: Will we learn these lessons and learn to coexist with fire, or are we bound to continually face catastrophic-level fires?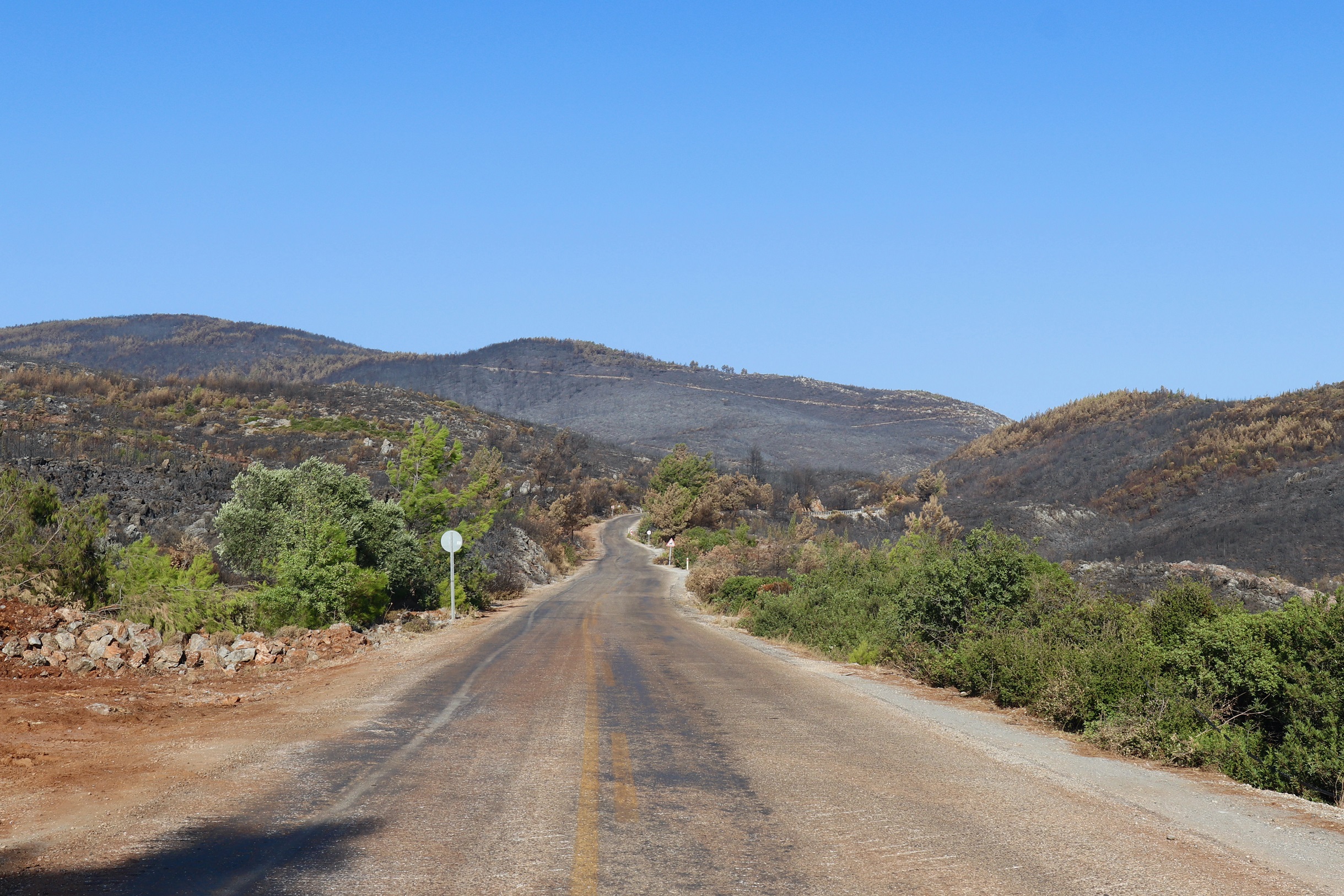 ---
2. Abigail Croker (Imperial College London)
There is no room for fire
Triple La Nina events are crippling humans and wildlife across East Africa. The rains have failed for three consecutive years in a row. People are suffering. Wildlife is perishing. The environment is changing. Savanna ecosystems rely on frequent fires to maintain an open grass-dominated habitat. But drought has struck and resources are scarce. "There is no room for fire". Fuel can be harvested or consumed by livestock, but "not burnt". "There is no room for fire" (Maasai research participant).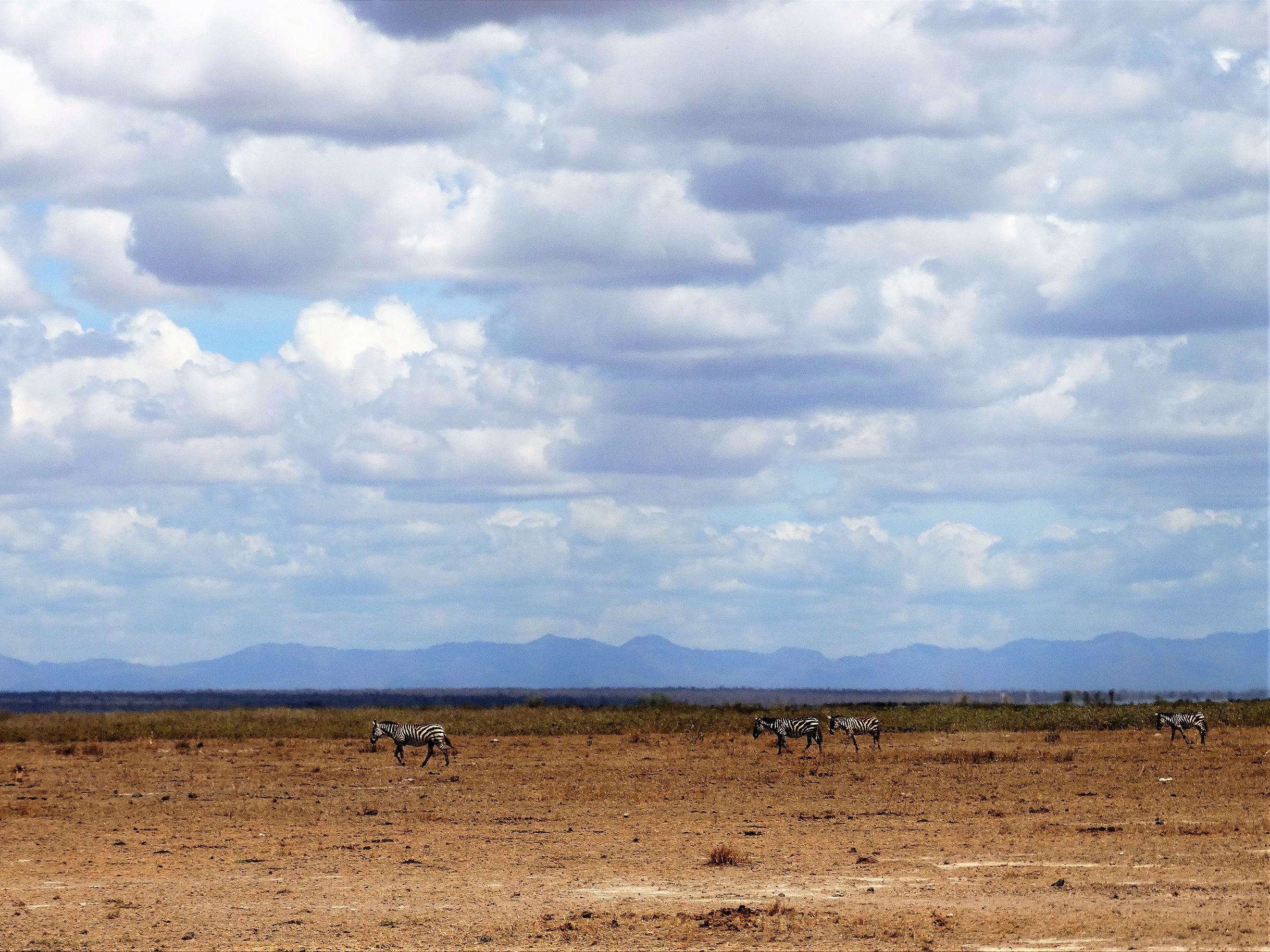 ---
3. Kayla de Freitas (Royal Holloway, University of London)
Keeping Watch: Traditional Savanna Burning
I investigate Shifts in Indigenous Burning Practices in South Rupununi, Guyana. She patiently lit patches, turning, feeling wind on her face to tell direction. Walking behind the fire, using young guava branches to beat wayward flames. I panicked internally, the fire moved towards trees, nesting birds flew in alarm, flames rose and fell, clambering over vegetation. But the fire burnt low beneath trees protected by pre-burnt patches. I've known this woman all my life, yet my trust faltered as the fire swept across the grass. 'How will it stop?' She smiled and gestured to an unseen place, known to her, a wetland where flames slowly died as the sun set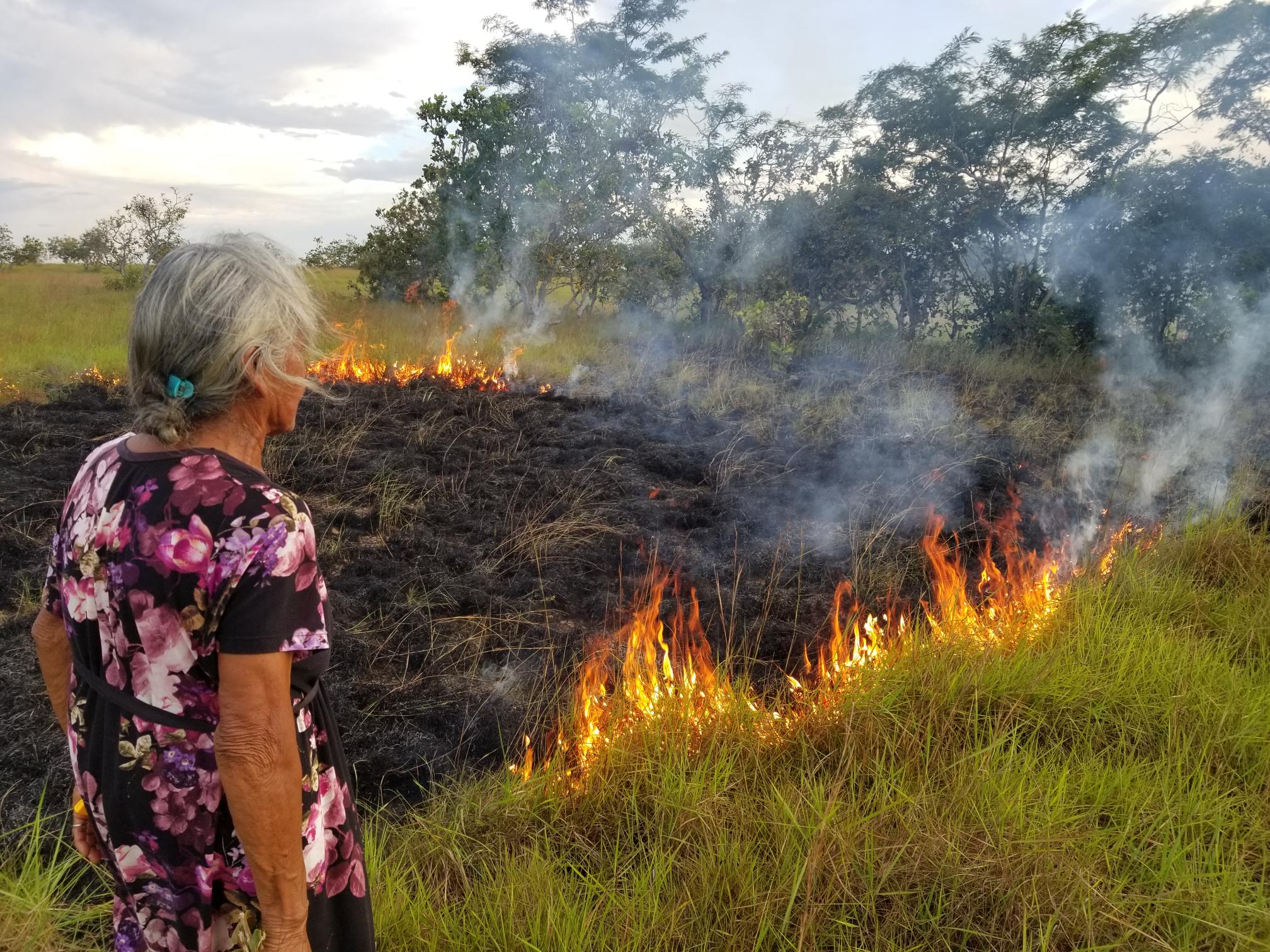 ---
4. Sophie De Pauw (University of Reading)
Playing with Fire
A long history of human activities including land clearance and burning have played a central role in determining and maintaining the composition, structure and dynamics of miombo woodland across East and Southern Africa. Many rural communities still rely on fire as the primary management tool to support subsistence practices such as agriculture, hunting and pastoralism. Yet, since the colonial era governments throughout the region have sought to impose strict bans on burning often criminalising the act. By burning their fields, farmers like Ernesto (pictured here) are defying state prescriptions and risk facing harsh penalties such as fines or even imprisonment.  In other words, they are "playing with fire".
---
5. Olivia Haas (Imperial College London)
What causes wildfires?
What causes wildfires? This image was taken a month after a 2020 wildfire in Sausset-les-Pins, France. It captures several potential causes of wildfires, from the sun's reflecting heat to the wind which permanently bends the trees. The road, from which this photo is taken, confirms the presence of the common scapegoat: humans. However, if we focus out and notice the surrounding grass, we start to see signs of regrowth. This fire-loving landscape has a long relationship with fire which precedes and will surpass us, as the vanishing roads suggests. Studying the age-old mystery of what causes Earth's wildfires is complex, and without fire the Earth we know would not exist.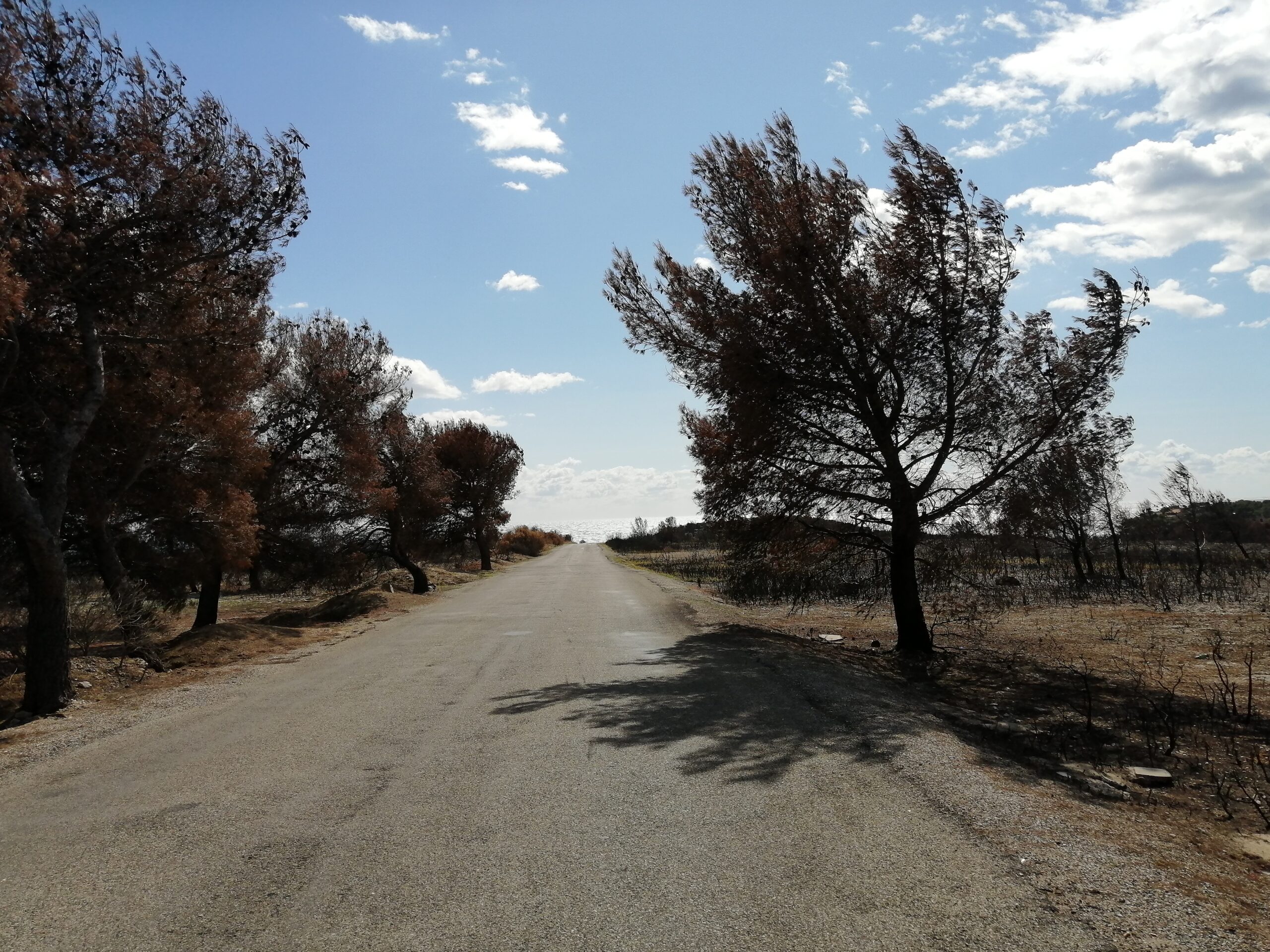 ---
6. Tilly Hall (Durham University)
Elements of Care
A crucial 12-acre prescribed burn of an old-growth redwood forest's understory. It was humbling to see 'good fire' being reintroduced as part of a long tradition of using fire to steward Sonoma County, California. My research explores care in wildfire risk management. While observing this burn, I questioned what it means to recognise everyday acts of wildfire risk management as 'acts of care'. The practice of putting 'good fire' on the land, and the flames themselves, demonstrated care as entangled with humans and non-humans, whereby feelings of gentleness, reciprocity and healing provides a way to navigate our co-existence with wildfire.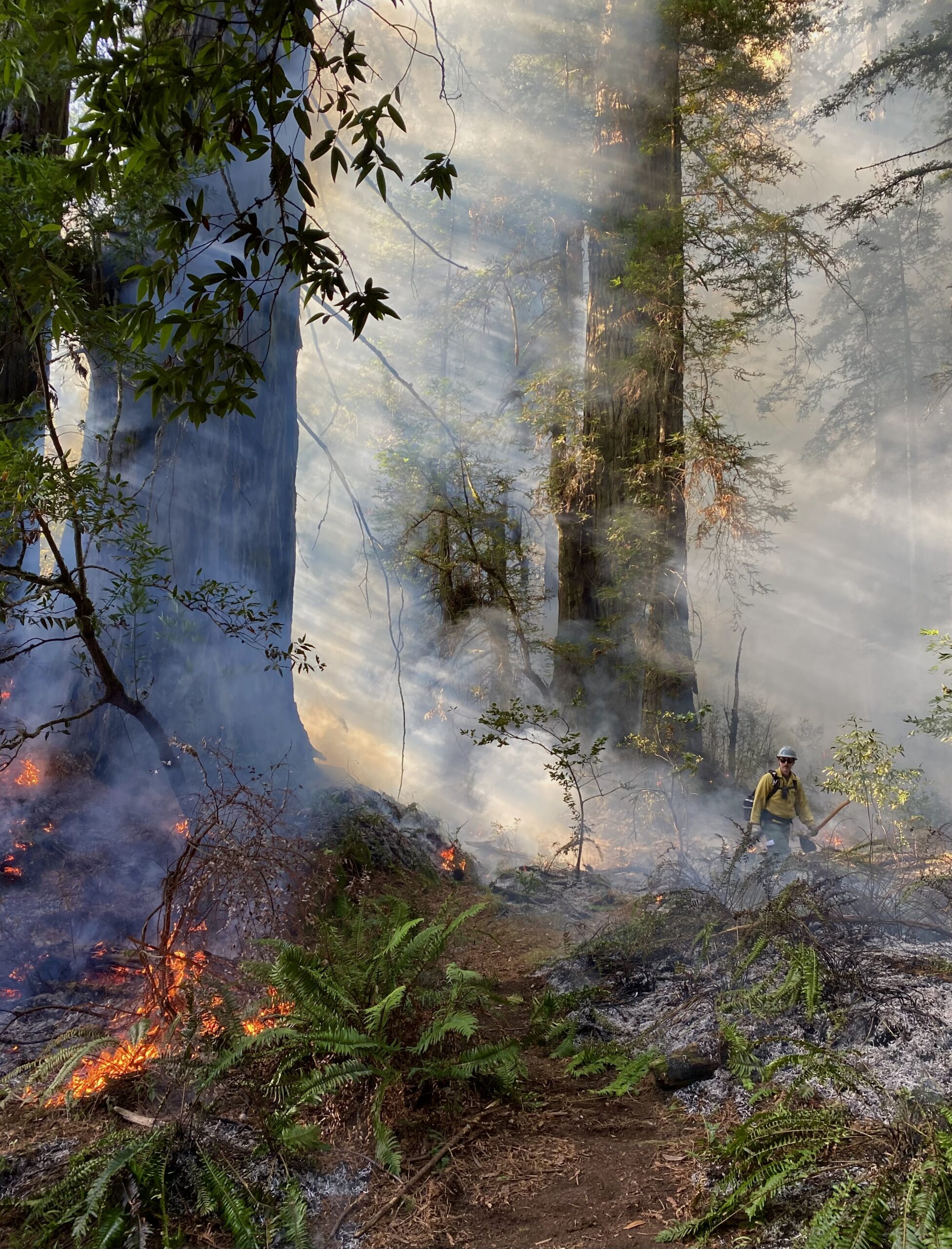 ---
7. Joyce Ho (University of Michigan, Ann Arbor)
Loss and Regrowth
As a sociologist, I research how communities grapple with emotional and material losses after wildfires. I took this photo near Lake Tahoe in California, USA. The 2021 Caldor Fire burned 89,773 hectares in the area, destroying over 1,000 structures. One of those structures was a cabin that had been in my interviewee's family for three generations: her grandparents built it by hand, and she grew up revelling in her summers there. Now, her cabin is gone and the surrounding land is barren, dotted with the blackened bodies of burned trees. But the daffodils that she planted thirty years ago still bloom each spring, a symbol of both loss and regrowth.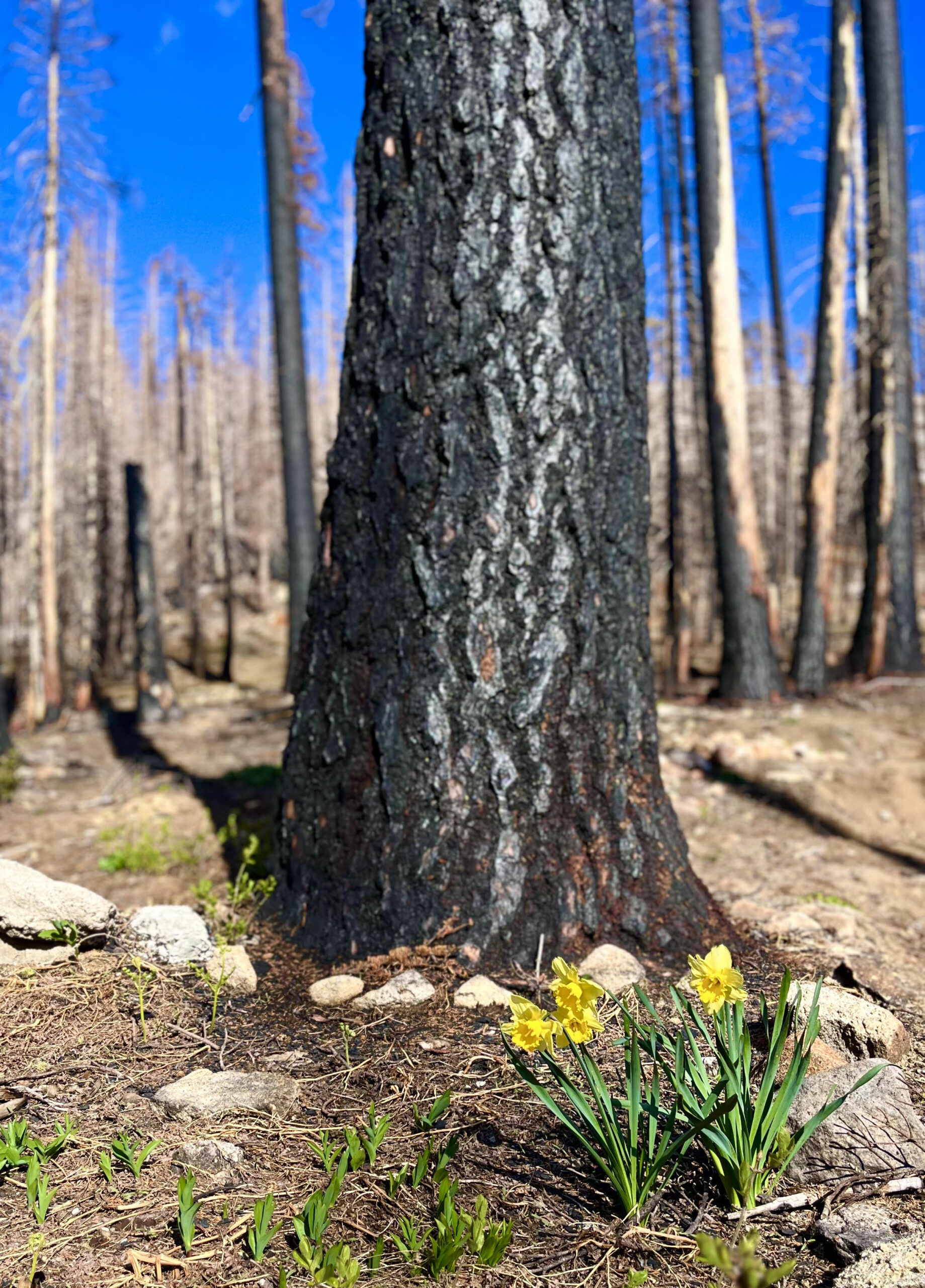 ---
8. Amos Muthiuru (King's College London)
Tsavo Wildfires
The photo was captured in Tsavo West National Park, Kenya during the 2020 wildfires. The frequent wildfires shape the habitats of key ungulates such as hartebeest influencing their spatial and temporal responses. Such interactions also affect predator-prey distribution. My study is set to investigate causes of such fires, how historical wildfires have affected the vegetation structure influencing habitat suitability and distribution of wild ungulates in remote Savannahs of Kenya.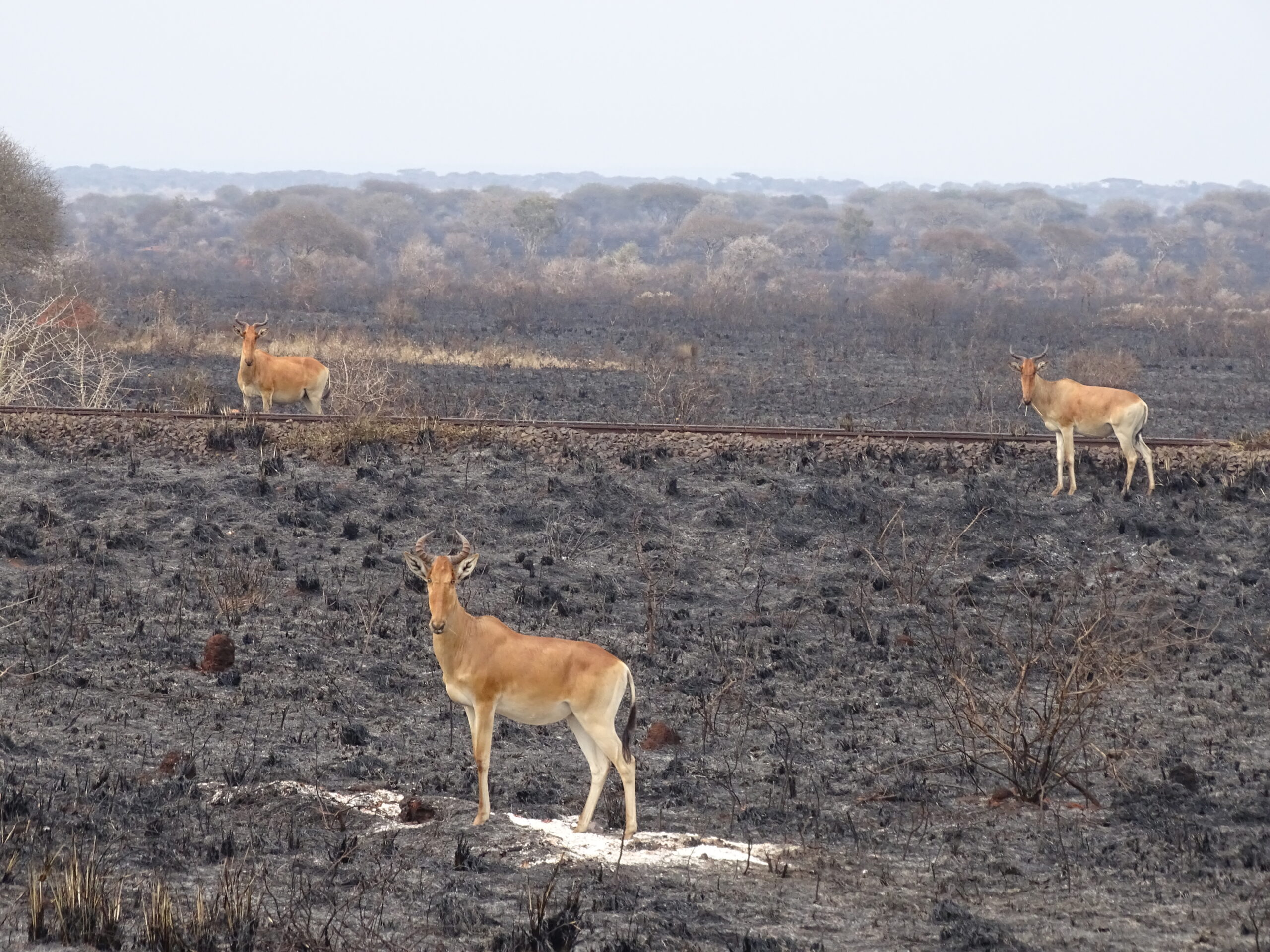 ---
9. Erika Piroli (Imperial College London)
Etna- Pine forest regrowing after 2020 eruption
Volcano eruptions are one of the natural causes of wildfires. Mount Etna is the highest active volcano in Europe, located in southern Italy, precisely in the eastern part of Sicily. At higher altitudes -where human activity is less intense- various forest ecosystems thrive. Between 1,450 and 2,100 meters, we can find forests of larch pines, interspersed with birches and beeches. The image captures a landscape where the pine forest has been scarred by lava from one of the many 2020 eruptions. Taken on June 1, 2023, the photo provides evidence that the pines are now recovering after a three-year period, aided by natural sediment deposition. The regrowth showcases nature's resilience amidst Etna's volcanic soil.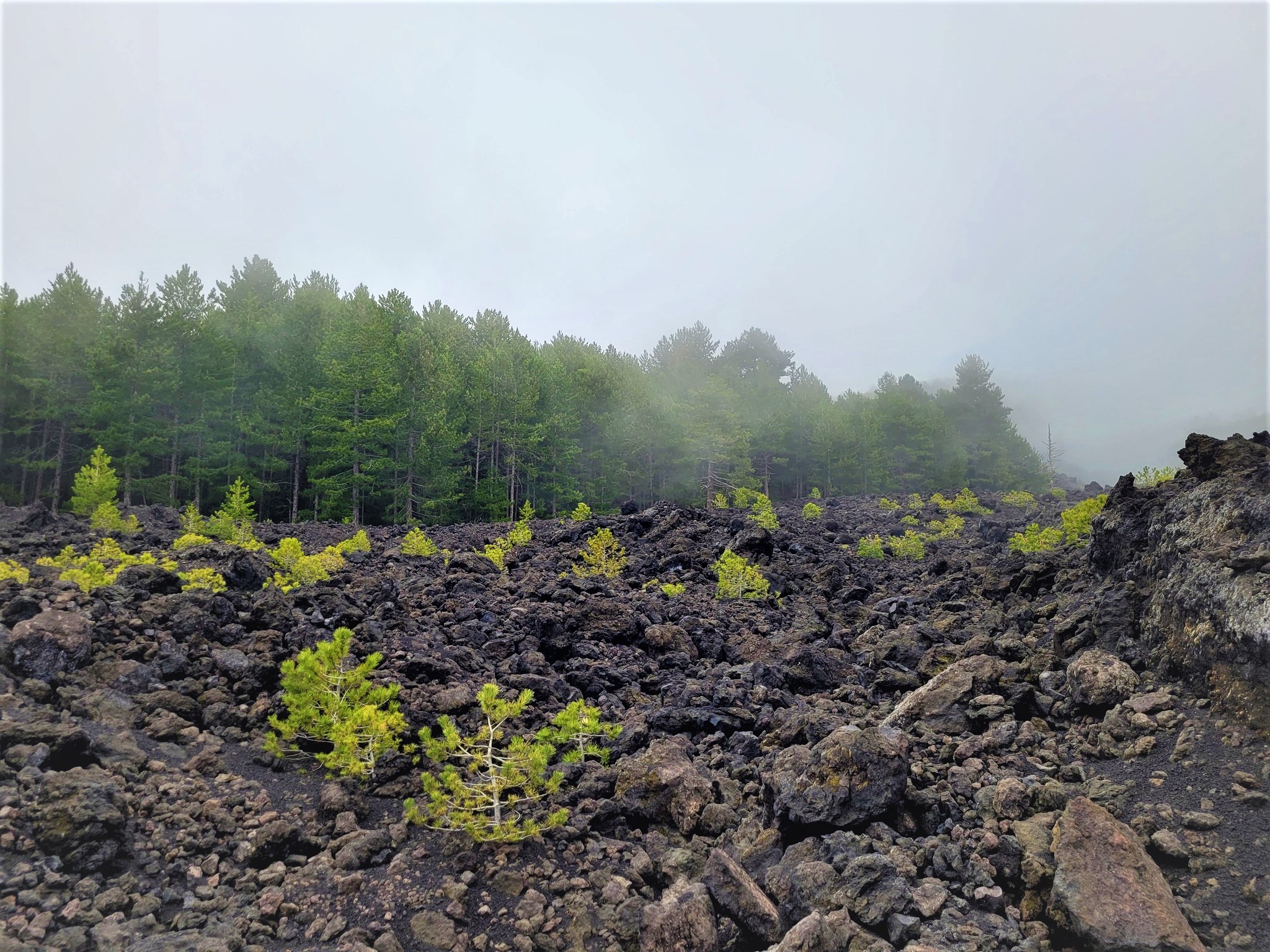 ---
10. Anastasios Rovithakis (Technical University of Crete)
Humans in Harmony with Nature
Stavros village, located in the island of Crete, Greece, is a community that has developed a unique relationship with the surrounding natural environment. The village has a long history of sustainable living, with the residents relying on traditional farming and fishing practices that are in harmony with the natural ecosystem. However, the natural environment and the people could be threatened as in my research we found that with the increasing Wildfire frequency in Greece and due to the fire season's prevailing wind patterns, the smoke plume is being transported over Crete scattering solar radiation and lowering surface temperatures thus disturbing traditional farming practices. In addition, wildfire emitted aerosols are also affecting people's health as they are responsible for chronic respiratory problems when inhaled in large quantities.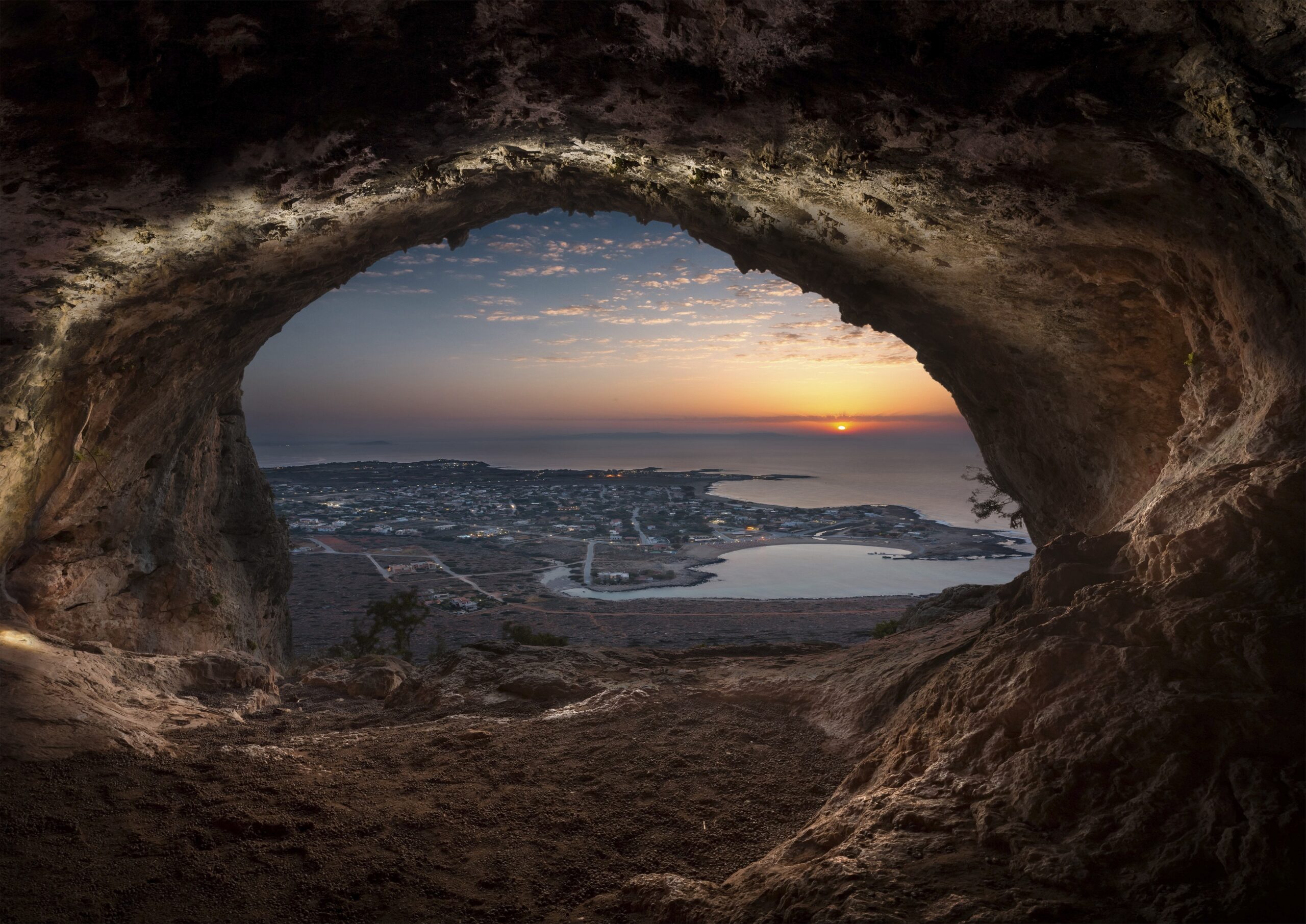 ---
11. Yicheng Shen (University of Reading)
The Hope of Life
"The Hope of Life" captures a moment amidst Kensington Gardens, my path to the Leverhulme Wildfires Centre where I did my PhD research which is related to the fire resprouting trait. Resprouting is a magical trait found in certain species, allowing them to emerge anew from fire-ravaged landscapes, offering a second chance at life. In Chinese culture, a poem echoes this phenomenon: "野火烧不尽,春风吹又生" — "Prairie fires cannot destroy all; species bloom with the spring breeze." These resilient resprouting species serve as a reminder to embrace strength and resilience in adversity.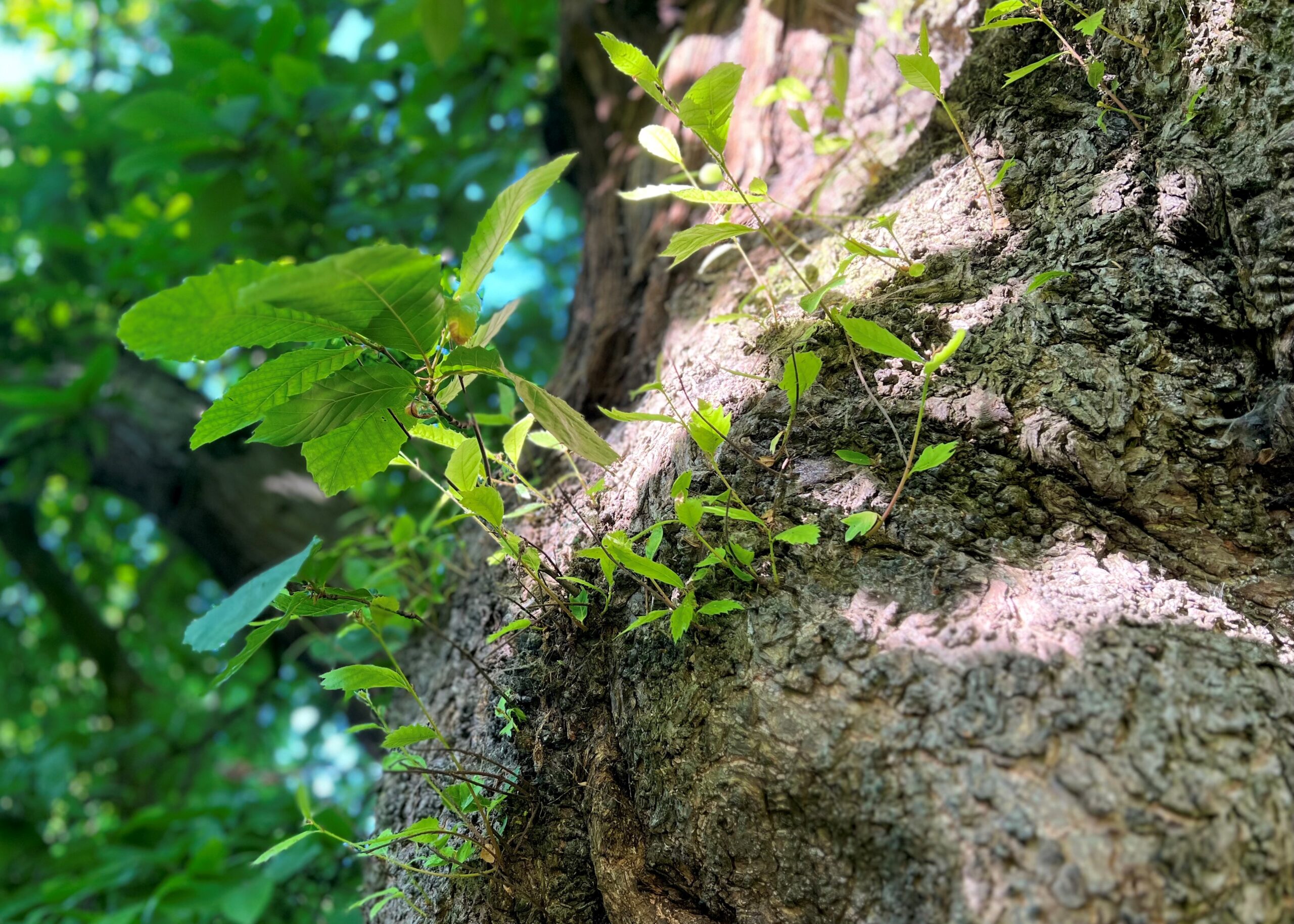 ---
12. Michel Valette (Imperial College London)
Firebreak protecting a regenerating woodlands plot
Fire is used for preparing fields in the Kadiogo province, Burkina Faso. This fire is burning next to a plot dedicated to assisted natural regeneration of woodland, which is vulnerable to wildfires at the end of the dry season. The plots are fenced by tiipaalga, a local NGO, and landholders are protecting them by clearing firebreaks, on which they can plant a few crops. These firebreaks enable the coexistence of regenerating plots of woodlands, providing many non-timbers forest products, and traditional use of fires for agriculture. This example highlights the importance of considering fire risk mitigation strategies for forest landscape restoration initiatives.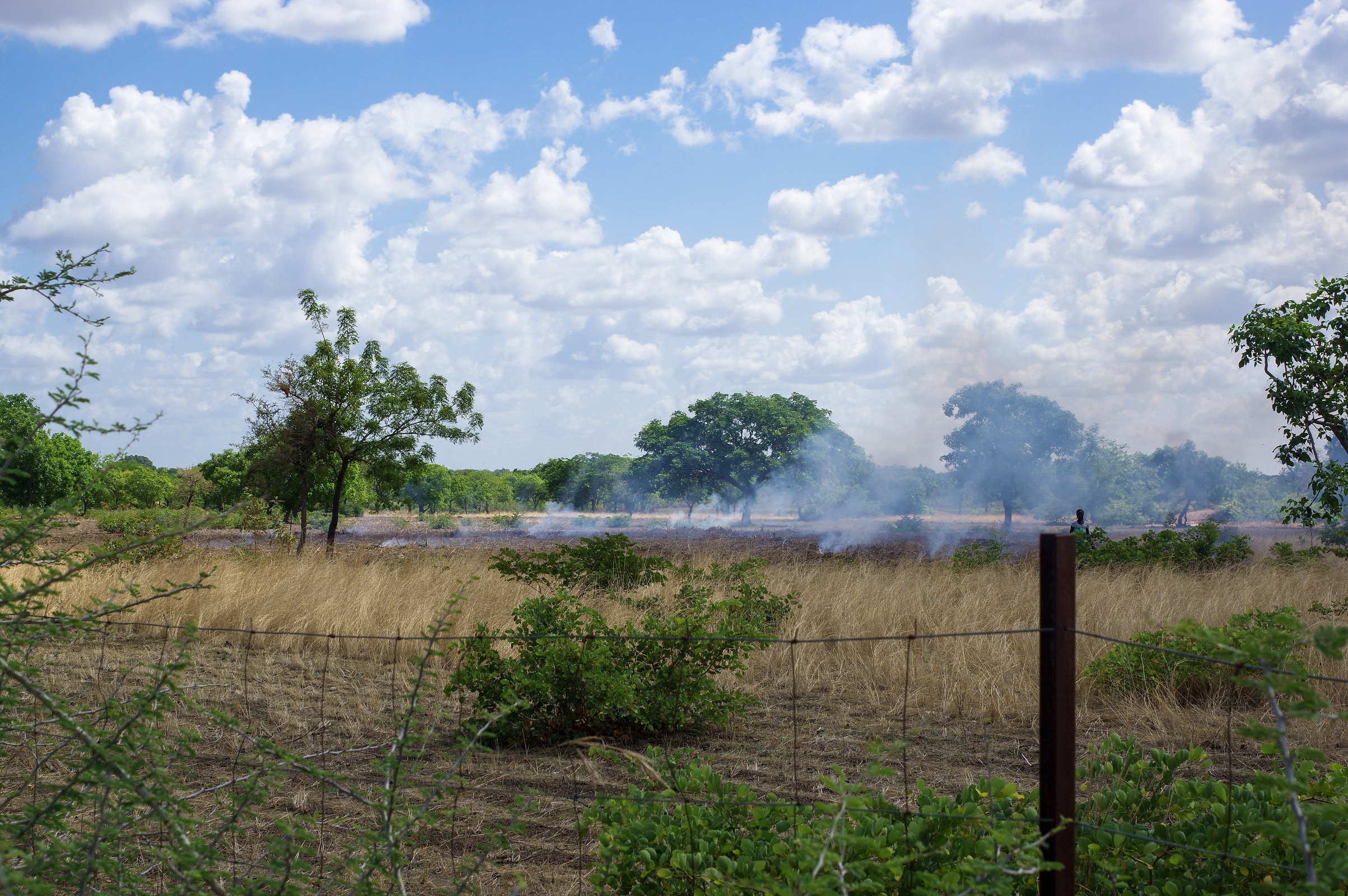 ---
13. Kapil Yadav (King's College London)
All that is green is not good
There are three shades of green in the picture- vibrant shrubs, lush rice fields and towering pine trees. And between these shades of green are the burnt scars from agricultural residue burning, which get a bad repute. Interestingly, local communities gather pine needles from nearby forests, spreading them in their farms to achieve an optimal burn. This practice indirectly mitigates fire risks in forests by managing fuel load. If the black scars hold glimpses of green, the green itself bears shades of black. Pinus Roxburghii, a native species that has become invasive, plays a significant role in fires within the Indian Western Himalayas.
---