Capability – Earth Observation and Remote Sensing
---
Summary
Our Centre has a wide range of expertise in the field of Earth Observation including development and validation of earth observation products, as well as applications of products in a range of fire landscapes.  Members of the Centre are involved in leading development of new algorithms used by space agencies to deliver information on active fire detections from satellites (both polar orbiting and geostationary).  We also work on validation of satellite products by using both ground based and airborne remote sensing instrumentation, for example, quantification of fire emissions. The Centre also have expertise in use of satellite products for determination of fire dynamics (eg flaming vs smouldering), understanding burned area (eg as assessment for policy decisions), identifying fire risk in the landscape, and for identification of smoke plumes and estimation of air pollution impacts.  The King's Earth Observation Group own and manage (on behalf of the National Centre for Earth Observation) a wide range of world class remote sensing instrumentation for measuring landscape and fire properties including a range of thermal infrared cameras, FTIR spectrometers, and particulate sensors that can be used on aircraft platforms, UAVs, and on the ground.
Who to Contact
If you have general queries about our capabilities and research in this area, please get in touch with our key contact point below.
Dr Mark Grosvenor (KCL) Email: mark.grosvenor@kcl.ac.uk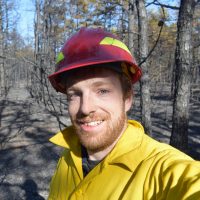 ---
People working in this area
Prof. Martin Wooster (lead) (KCL) – Professor in Earth Observation Science – read more
Prof. Helen Brindley (ICL) – Professor in Earth Observation – read more
Dr Emma Tebbs (KCL) – Lecturer in Physical Geography and Earth Observation- read more
Dr Mark Grosvenor (KCL) -PDRA – Developing and adopting experimental capabilities for studying the physical aspects of wildfires and their emissions
Dr Hannah Nguyen (KCL) – PDRA – Regional modelling for the study of air quality degradation from wildfire emissions
Dr Ramesh Ningthoujam (ICL) – PDRA – Developing a global wildfire taxonomy
Farrer Owsley-Brown (KCL) – PhD student – Hyperspectral and thermal remote sensing of landscape fire properties
Rahinatu Sidiki Alare (KCL) – PhD student – Understanding the trade-offs between traditional and government approaches to fire management in the savannah woodlands of northern Ghana
Henry Thompson (KCL) – PhD student – Physical and socio-economic drivers of changing fire dynamics in Ethiopia's drylands and impacts on ecosystem services
Michaela Flegrova (ICL) – PhD student- quantifying the radiative impact of African landscape fires,
Also visit KCL Earth Observation and Remoting Sensing Group.
Leadership Team
The Centre is directed by a six-strong Leadership Team of a Director and Associate Directors, covering a wide range of areas of expertise that are crucial for the materialisation of our Centre: