Photo: Fire at Upton Heath, Dorset, in 2011 adjacent to the Dorset Firewise community just prior to their evacuation. Photo Credit: Urban Heaths Partnership
Last year, Firewise Communities launched in Dorset as part of a new UK initiative to provide community guidance and support for preparing and responding to wildfires. Dr Adriana Ford, our Centre Manager, spoke to Linda Kettley, Firewise Communities Assistant at the Urban Heaths Partnership, hosted by Dorset Council, to find out more about the initiative.
Adriana: What is the purpose of Firewise Communities?
Lin: The role of Firewise Communities is to create an informed public who understand the risks and the steps they can take to keep themselves safe, and lower their risk, from wildfires. It particularly applies to people who live very close to heaths, open land and forests. Firewise started in the USA, following some large wildfires they had there. Since then it has become international – it's in countries as diverse as Chile, Canada, Spain, and now it's here in the UK.
Adriana: Is that across the whole of the UK? I know you're based in Dorset.
Lin: The first group was started in Surrey I believe, following a fire they had there. In Dorset, we became aware of Firewise Communities following a large heathland fire in 2011. Lucian Deaton form the National Fire Protection Association of America attended a conference held in Dorset to discuss the USA programme. It was decided to introduce Firewise into Dorset because wildfire is an increasing threat here. It took a bit of time working with partners, to secure funding. However the information we've developed in Dorset has been adopted by the National Fire Chiefs Council and can be used by other groups across the UK – we've already shared with South Wales and Lancashire Fire Services. It's important that we spread the message in the UK, and that it's a consistent message.
Adriana: Don't you have quite an interesting story about how Firewise is funded?
Lin: Yes, you are absolutely right! This was before my time, but there was a fire, and in that fire the fire service found quite a substantial sum of money, in a mattress. They reported it to the police, the police did some enquiries, and amazingly nobody claimed it. I believe it was put into the coffers of the police and crime commissioner who was allowed to use it for projects and good community causes. The Urban Heaths Partnership made an application for Firewise and was successful. It is the most bizarre story, and it does give me great pleasure to say my role is being funded out of money from under a mattress! Not many people can say that!
Adriana: That's true! So what is your role in Firewise Communities?
Lin: My role is to get out there and talk to people who live close to heaths and share the message of what Firewise can do for communities. I have also had the privilege of presenting at wildfire forums, and I was invited to present at the National Fire Protection Association (NFPA) conference in Texas last year to tell them about what we're doing over here in the UK. So, it's an extremely diverse role. My first task was to look at everything they did in the USA and convert that to a UK context. We had to meet all of the requirements of our partners, who are as diverse as the council, the police, the fire service, and various wildlife groups. It took a little longer than I expected, but I believe if you start with firm foundations, you can build stronger, so it was important that we got things right. Whilst I was doing that, we selected our first community, who had been evacuated during a wildfire event back in 2011. One of the most important things was engaging with them whilst I was writing the guidance, as they are the ones who will be reading it. They were absolutely fantastic. Everything I did was shown to them, as well as our partners, so we had real ground-up buy-in really, which was brilliant. We also worked closely with NFPA and the Firewise team in USA, because we work under a licence to them. Lucian Deaton from the NFPA was absolutely instrumental in us forging the way ahead in this country.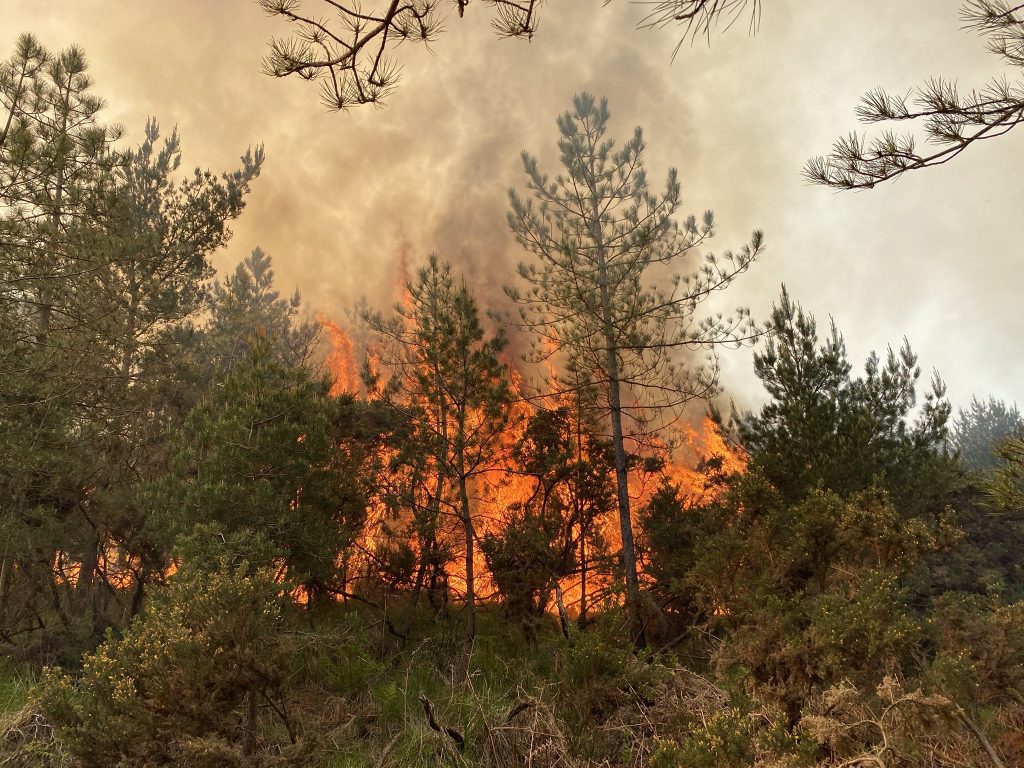 Adriana: What are the main achievements to date for Firewise Communities in the UK?
Lin: Recently we've experienced a large wildfire in Dorset in Wareham Forest, with several communities being evacuated. We've managed, even in these difficult times, to deliver information straight away to them, and we've managed to have conversations with a lot of the people affected. We will also visit them as soon as we can.
We are also working very closely with the wildfire tactical advisor for Dorset and Wiltshire Fire Service, Andy Elliot. Together we have developed advice for our communities that are small steps, but that can make significant changes. This includes how to plant up your garden to reduce wildfire risk, storing your wood pile a bit further away from your house, and making sure trees don't touch the guttering, things like that. We are not asking them to spend lots of money. Meeting the local communities is brilliant, because these are the very people who are at risk. It's great when you get out there and talk to people about wildfire risk and see the light bulbs coming on. It's important that we work with the land managers as well. There are still gaps around our table, but the important thing is that we have a core group now, and we can increase this further. We'd love to see businesses come on board, because a lot of businesses back on to heath, open ground and forest, and they are at risk too. So, we've written a communication strategy, and we are looking at social media, working with the universities, all sorts of innovative ideas. The current climate has also made us more aware of how much more diverse we've got to be in our approach to contacting and connecting with people.
Adriana: We have been talking about people who live next to forests, heaths and open land, but does it also affect people living in towns? Are they people you engage with as well?
Lin: It is interesting that you say that because it has always been my belief that Firewise is a concept that can be applied anywhere. If, for example, your next-door neighbour had a bonfire which got out of control and your garden is overgrown, then your risk from fire may be very high. Another risk to consider is the ember risk. Embers can travel up to half a mile particularly in a wildfire situation. Building programmes up and down the country are encroaching more and more onto open land, as they have to, so this is something we need to be aware of. However, at the moment, our focus has to be on the heaths, because that is where most of our large fires are occurring.
Adriana: What are the main challenges that you face?
Lin: The main challenges, I would say, is people not knowing, not realising, not understanding, what a wildfire can do. We did some research before we started, door knocked a few communities to see how they interacted with the heathlands behind their homes, and they love where they live, but they don't necessarily understand the risk that it can pose. Not just the fire itself, but smoke plumes – you could be a mile away from a fire, but if the smoke plume is in your direction, you can find yourself being evacuated for that reason. The biggest issue for me is educating everybody around the risks that there are, and that's exactly why we are here, informing the public.
The biggest issue for me is educating everybody around the risks that there are, and that's exactly why we are here, informing the public.
Adriana: What is the role of wildfire research in what you do, are there any knowledge gaps?
Lin: One of the questions that came out from the community was what plants are better for reducing wildfire risk. So, we are working with Prof. Claire Belcher from Exeter University who is testing plant samples that have been taken by our group, and she's just produced the first information leaflet based on that research. So that's really positive, because it's almost like 'you said, we did' which is so important when you work with communities.
In terms of knowledge gaps, I think understanding public perception is an important area. Most people here do not realise how quickly wildfire both develops and the threat that it can pose, if you live close by. You also get people coming down here for holidays, and it is important that they understand too, and when people are panicked, they don't always react the way you would expect them to. So, I think some research into public perception around wildfire would be really worthwhile, and we'd be very happy to work with a university on that.
Adriana: Of course, that is really important. Do you have any other comments about Firewise?
Lin: Just that I feel quite passionately about this, not least because my own home backs onto a heath. I also feel that we need to capture the amazing rise in the community spirit that we have seen up and down the country during this pandemic. As a country, and within Firewise, I think we need to harness that. The community we work with now know exactly where their most vulnerable people are, so should there be another wildfire and they are evacuated, they can pass that information on, and all that information is absolutely priceless. So this has given us another lead on how we can engage with communities, and I'd obviously like to see more people becoming a part of Firewise Communities. For me, it's about informed public, and we are doing a lot of work on getting our message out there. We've rather had our hands full, but in a good way. It's really challenged us to look at different ways of delivering information, which is a really positive thing. It's made us look at ourselves as others see us, and come up with different ways of doing things.
For more information, please visit the Firewise Communities Dorset website and the NFPA Firewise USA website.
Contact: Dr Adriana Ford, Centre Manager, Leverhulme Centre for Wildfires, Environment and Society, wildfire@imperial.ac.uk