Dr Morena Mills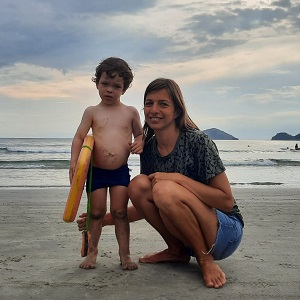 "Measure yourself up against what you want to achieve, not what others expect or want you to accomplish for them"
Which area of fire science do you specialise in?  
I am environmental social scientist, so I study the interrelations of people and the environment. The increasing magnitude and frequency of wildfire within tropical forest regions is a growing concern for people and nature, so I'm interested in understanding what the impacts are and what we can do about it.
What challenges have you faced in getting to where you are now? 
I am a first-generation PhD from Latin America, so there have always been challenges, but the biggest thus far has been balancing parenting and academia during the pandemic. That period involved finding courage and energy to keep going as schedules and plans were changed every day. Luckily, I received a lot of support from managers, supervisors, mentors, and colleagues, and that made a huge difference.
Do you have any advice to give women wanting to pursue a career in science? 
Do it, but while you do it, be kind to yourself and stick to your values. Science can be incredibly competitive, but it also offers a lot of flexibility. There are many ways you can make critical contributions to science and your institution. Measure yourself up against what you want to achieve, not what others expect or want you to accomplish for them. Also, you can choose to work with kind and wonderful people so chose your collaborators wisely.
Dr Morena Mills is an academic supervisor in the Centre, and Reader in Environmental Policy and Practice at Imperial College London (Centre for Environmental Policy)
Read about other women in the Centre
Leadership Team
The Centre is directed by a six-strong Leadership Team of a Director and Associate Directors, covering a wide range of areas of expertise that are crucial for the materialisation of our Centre: